Creating a Cozy and Stylish Nursery: Decor Ideas for Your Little One's Space Creating a cozy and stylish nursery is an exciting and important step for welcoming your little one into the world. It is a space where your baby will spend a significant amount of time, so it should be comfortable, safe, and aesthetically pleasing. In this article, we will provide you with some decor ideas to help you create the perfect nursery for your little bundle of joy.
1. Choose a calming color palette: Start by selecting a soothing color palette for the nursery. Soft pastel shades like pale blue, mint green, or lavender create a serene atmosphere. Neutral colors like beige, gray, or cream can also be a great option, as they provide a peaceful and timeless look.
2. Opt for functional furniture: Invest in furniture that is not only stylish but also functional. Choose a crib that can convert into a toddler bed as your baby grows, maximizing its usability. Consider a changing table with ample storage space to keep all the essentials within reach. A comfortable rocking chair or glider is another essential item that can provide a cozy spot for late-night feedings and cuddling sessions.
3. Create an accent wall: Adding an accent wall can instantly elevate the style of the nursery. Choose a wallpaper with a cute and playful pattern, like animals, clouds, or stars. Alternatively, you can paint one wall in a bold color to create a focal point. This adds visual interest to the room without overwhelming the space.
4. Hang artwork and wall decor: Decorate the nursery walls with artwork, wall decals, or framed prints that match the theme or color scheme. Baby animal illustrations, inspirational quotes, or whimsical characters can add a touch of charm to the room. For a personal touch, consider framing ultrasound pictures or creating a photo wall with your baby's first-year milestones.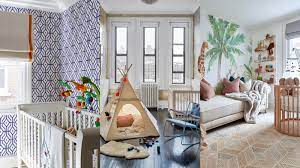 5. Incorporate soft textiles: Soft textiles such as curtains, rugs, and pillows can add warmth and comfort to the nursery. Choose blackout or light-filtering curtains to promote better sleep for your little one. A cozy rug can provide a soft and safe surface for your baby to play on. Add decorative pillows or cushions to the rocking chair or crib to make the space even more inviting.
6. Don't neglect lighting: Proper lighting is essential in a nursery. Install dimmable overhead lights or a pendant lamp with a soft glow, allowing you to adjust the brightness according to your baby's needs. Use blackout curtains or blinds to keep the room dark during nap times or bedtime. Additionally, consider adding a nightlight to provide a gentle soft light during the night.
7. Personalize the space: Add personalized touches to the nursery to make it feel extra special. Hang wooden letters spelling out your baby's name on the wall or add a customized wall decal. Display a shelf or shadow box with sentimental items like baby shoes, a first tooth, or a favorite stuffed animal. These personalized touches will make the nursery feel like a unique and loving space for your little one.
8. Keep it organized: A well-organized nursery not only looks aesthetically pleasing but also makes your life easier. Use baskets or bins to categorize and store baby essentials like diapers, wipes, toys, and clothing. Consider installing open shelving or bookcases to display books, toys, or artwork, making them easily accessible while adding a decorative touch.
9. Add a touch of nature: Bringing elements of nature into the nursery can create a calm and peaceful atmosphere. Place a few potted plants, like ferns, spider plants, or succulents, in a safe spot away from reach. You can also hang a small mobile with natural materials like wooden or felted animals to encourage a sense of connection with the natural world.
10. Safety first: Last but not least, ensure that the nursery is a safe environment for your little one. Anchor furniture to the wall to prevent tipping, cover electrical outlets, and install cordless blinds or curtains to reduce the risk of accidents. Choose non-toxic, baby-safe paint for the walls and furniture. Keep small objects or choking hazards out of reach, and ensure that the crib conforms to safety standards.
Essential Baby Safety Products Every New Parent Should Have
Creating a cozy and stylish nursery is an enjoyable process that allows you to showcase your creativity while providing a comfortable and safe space for your little one. With the right color palette, functional furniture, personalized touches, and attention to safety, you can create a nursery that is both aesthetically pleasing and practical for you and your baby to enjoy.