Introduction:
Top 10 Must-Have Baby Gear Products for New Parents Becoming a new parent is an exciting and overwhelming experience. With so many baby gear products available on the market, it can be challenging to determine which ones are essential for you and your little one. To help ease the stress, we have compiled a list of the top 10 must-have baby gear products for new parents. From nursery essentials to on-the-go must-haves, we've got you covered.
1. Crib and Mattress:
A safe and comfortable sleep environment is crucial for your baby. Investing in a sturdy crib and a quality mattress is essential. Look for cribs that meet safety standards and have adjustable mattress heights. Additionally, opt for a comfortable and breathable mattress that promotes sound sleep for your little one.
2. Diaper Changing Station:
Changing diapers is an inevitable part of parenthood. Having a dedicated changing station with a changing table, diaper pail, and storage compartments will make this task more manageable. Look for a changing table with safety straps to keep your baby secure during the changing process. And don't forget to stock up on diapers, wipes, and diaper rash creams!
3. Baby Monitor:
Ensuring your baby's safety is a top priority for new parents. A baby monitor allows you to keep an eye on your little one even when you're not in the same room. Look for a monitor with video capabilities, night vision, and two-way audio to communicate with your baby. Additionally, consider one with built-in temperature sensors to monitor your baby's room temperature.
4. Breast Pump and Bottles:
For breastfeeding mothers, a breast pump is an invaluable tool. It allows you to express milk and store it for future use. Look for a pump that is comfortable, easy to clean, and portable. Also, invest in a set of bottles with different flow rates to ensure your baby can transition from breast to bottle feedings smoothly.
5. Car Seat:
Safety should always come first when it comes to traveling with your little one in a car. A car seat is a non-negotiable baby gear product for new parents. Ensure that the car seat meets safety regulations and is properly installed in your vehicle. Look for one that can grow with your baby, providing comfort and safety for a long time.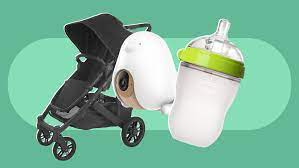 6. Stroller:
A stroller is a must-have item for on-the-go parents. Look for a sturdy and lightweight stroller that is easy to maneuver and fold. Consider one with adjustable seating positions, ample storage space, and a detachable car seat option for added convenience. Your baby will thank you for the smooth rides and comfortable napping opportunities.
7. Baby Carrier or Sling:
Babywearing is a great way to bond with your little one while keeping your hands free. A baby carrier or sling enables you to carry your baby hands-free, making daily activities much more manageable. Look for one that is ergonomically designed, adjustable, and comfortable for both you and your baby. It's a win-win situation!
8. High Chair:
Introducing solids is an exciting milestone for both you and your baby. A high chair is essential for feeding your little one safely and comfortably. Look for a high chair that is easy to clean, has adjustable height and backrest, and comes with safety features like a five-point harness. Mealtime will be a breeze with the right high chair.
9. Baby Swing or Bouncer:
When your baby needs a break from being in your arms, a swing or bouncer can be a lifesaver. Look for one with different swinging or bouncing speeds, comfortable padding, and soothing features like music or vibrations. This will keep your baby entertained and relaxed while giving you a much-needed break.
10. Baby Bath Tub:
Bathing your baby is a precious bonding time. A baby bath tub makes this experience safer and more comfortable for both of you. Look for a tub with a non-slip surface, a gentle incline, and a temperature gauge to ensure the water is just right. Don't forget to gather essential bathing supplies like mild baby soap, soft towels, and a gentle hairbrush.
Unlock the Power of AI: Introducing oCUprime – an Innovative AI Assistant
Conclusion:
Navigating the world of baby gear products can be overwhelming for new parents. By considering the top 10 must-have baby gear products mentioned above, you can ensure that you have the necessary essentials to provide a safe, comfortable, and enjoyable environment for your little one. Remember, every baby and parent's needs may differ, so choose items that work best for you and your baby's unique journey. Enjoy this precious time with your new bundle of joy!