Trend Alert: The Hottest Accessories You Need in Your Wardrobe
Accessories have the power to transform any ordinary outfit into a fashion statement. They add the finishing touches and elevate your style to a whole new level. As fashion trends come and go, it's essential to stay updated with the hottest accessories that can enhance your wardrobe. In this article, we will explore the must-have accessories that can revamp your look and boost your confidence.
1. Statement Earrings:
Bold, oversized earrings are making a comeback this season. From geometric shapes to intricate designs, statement earrings are all about making a statement. They can instantly add a pop of color and drama to even the simplest of outfits. Whether you prefer gold hoops or beaded chandeliers, these eye-catching earrings are a must-have for fashion-forward individuals.
2. Chunky Sneakers:
Gone are the days when sneakers were solely for athletic purposes. Chunky sneakers have become a major trend in recent years. These sneakers feature exaggerated soles that give an edgy and youthful vibe. Not only are they incredibly comfortable, but they also add a cool and trendy touch to any outfit. Pair them with jeans, dresses, or even suits; they are versatile and a definite must-have for your shoe collection.
3. Mini Bags:
Sometimes, less is more, and that's precisely what mini bags represent. These adorable, compact purses have taken the fashion world by storm. Whether it's a micro tote, a tiny crossbody, or a mini shoulder bag, they are the perfect accessory to carry your essentials while adding a touch of chicness to your outfit. They come in various shapes, colors, and styles, making it easy to find one that suits your personal taste.
4. Cat-Eye Sunglasses:
A classic accessory that never goes out of style, cat-eye sunglasses add a touch of vintage glamour to your look. These retro-inspired frames flatter almost every face shape and instantly elevate your style. Opt for bold, oversized frames for a statement look or go for subtle, delicate frames for a more timeless appeal. Regardless of the size, cat-eye sunglasses are a must-have accessory to protect your eyes while adding a touch of sophistication and elegance.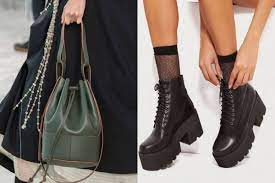 5. Hair Accessories:
Gone are the days when hair accessories were reserved for little girls. This season, hair accessories are making a comeback for adults as well. From embellished headbands to trendy hair clips, these accessories can instantly transform your hairstyle into a work of art. Whether you prefer a minimalistic look or a more extravagant style, there are numerous options available to suit your preference. Play around with textures, colors, and shapes to find the perfect hair accessory that reflects your personality.
6. Belt Bags:
Not just a practical accessory, belt bags are also a fashion statement. These versatile pieces can be worn around the waist, across the body, or even as a conventional bag by detaching the belt. They offer a hands-free alternative while still maintaining a stylish appearance. Belt bags come in a range of materials, from leather to nylon, making them suitable for various occasions. Add this functional and trendy accessory to your collection to stay organized and fashionable on the go.
7. Layered Necklaces:
Layered necklaces continue to dominate the jewelry scene this season. Mix and match different lengths and styles to create a personalized and stylish look. Whether you prefer delicate chains with minimalistic pendants or chunky statement pieces, layering necklaces adds dimension and depth to your outfit. This trend allows you to express your creativity and showcase your unique style.
8. Scarves:
Scarves have proven time and time again to be an accessory that never goes out of style. This season, scarves are more versatile than ever. From silk scarves tied around the neck to oversized blanket scarves draped over the shoulders, they can add sophistication and elegance to any ensemble. Experiment with different prints, patterns, and materials to achieve the desired effect. Scarves are the perfect accessory to elevate your outfit during any season.
Unlock Your Style: Key Fashion Tips for Men/Women
In conclusion, accessories have the power to transform any look from ordinary to extraordinary. Stay ahead of the fashion game by incorporating these hottest accessories into your wardrobe. Invest in statement earrings, chunky sneakers, mini bags, cat-eye sunglasses, hair accessories, belt bags, layered necklaces, and scarves, and you'll be ready to face any occasion with style. Remember, fashion is an expression of individuality, so be bold, experiment, and have fun with your accessories!