Unveiling the Hottest Streetwear Trends of 2021: Must-Have Styles
Streetwear has become an integral part of contemporary fashion, with its influence reaching beyond the confines of urban centers and capturing the attention of people from all walks of life. As we dive into 2021, here are the must-have streetwear trends that are set to dominate the fashion scene this year.
1. Oversized Everything
One of the defining elements of streetwear in recent years has been the embrace of oversized clothing. This trend shows no signs of slowing down in 2021, with baggy hoodies, T-shirts, and jackets taking center stage. The allure of oversized clothing lies in its comfort and effortless style, allowing individuals to achieve a laid-back and cool aesthetic.
2. Tie-Dye Resurgence
Tie-dye has experienced a major resurgence in recent years, and this trend shows no signs of fading away. Whether it's on a t-shirt, hoodie, or even a pair of socks, tie-dye patterns bring a vibrant and nostalgic touch to any outfit. Expect to see bold and colorful tie-dye designs making a statement on the streets in 2021.
3. Sustainability in Streetwear
As the world becomes more environmentally conscious, sustainability has also made its way into streetwear. Brands are incorporating eco-friendly materials, such as organic cotton and recycled fabrics, into their designs. This shift towards sustainability adds a new layer of importance to streetwear, allowing conscious consumers to make fashion choices that align with their values.
4. Athleisure All Day, Every Day
Athleisure has been a dominant force in streetwear for several years now, and it shows no signs of losing steam in 2021. Combining comfort and style, athleisure wear has become a staple in many people's wardrobes. Expect to see an abundance of joggers, leggings, and oversized sweatshirts on the streets as people continue to prioritize both aesthetics and functionality.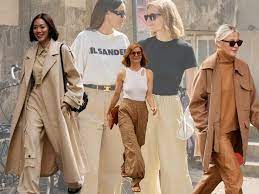 5. Reflective Accents
Reflective fabrics and accents have become increasingly popular in streetwear, adding a futuristic and eye-catching element to outfits. Whether it's a reflective stripe on a jacket, a pair of sneakers with reflective detailing, or even a reflective backpack, these pieces are sure to turn heads both day and night. The added safety benefits of increased visibility make reflective streetwear not only trendy but also practical.
6. Bold Graphic Tees
Graphic tees have long been a staple in streetwear, and this trend is showing no signs of disappearing in 2021. From nostalgic cartoon characters to bold typography and abstract designs, graphic tees allow individuals to express their personal style and interests. Pair them with jeans or layer them under oversized jackets for an effortlessly cool look.
7. Elevated Luxury Streetwear
Luxury brands have taken note of the streetwear movement and have begun incorporating it into their collections. In 2021, expect to see high-end fashion houses putting their spin on streetwear staples. Whether it's a designer hoodie, joggers, or sneakers, luxury streetwear blends opulence and urban style, adding a touch of sophistication to the streets.
8. Neon and Vibrant Colors
If there's one trend that's impossible to miss on the streets in 2021, it's neon and vibrant colors. From electric greens to vibrant pinks and oranges, bold and eye-catching hues are set to take over streetwear. Whether it's a neon-colored windbreaker, a bright bucket hat, or a pair of neon sneakers, these vibrant pieces add a playful and energetic touch to any outfit.
9. Retro Sportswear Revival
Nostalgia continues to be a driving force in fashion, and retro sportswear is making a strong comeback in 2021. Brands are revisiting iconic designs from the '80s and '90s, incorporating bold color-blocking, oversized logos, and vintage-inspired prints into their collections. From track jackets to basketball shorts, retro sportswear allows individuals to tap into a sense of nostalgia while staying on-trend.
10. Functional Utilitywear
Functionality marries fashion in the realm of utilitywear. Inspired by workwear and military aesthetics, utilitywear combines practicality with style, allowing individuals to stay on-trend while carrying all their essentials. Expect to see an explosion of cargo pants, vests, and oversized pockets, as well as harnesses and multi-purpose accessories, adding an edgy and practical element to streetwear.
Discover the Power of Joint Restore Gummies for Enhanced Mobility
As we move through 2021, streetwear continues to evolve, bringing together elements of comfort, sustainability, nostalgia, and cutting-edge design. Whether you're a die-hard streetwear enthusiast or simply looking to incorporate some casual yet stylish pieces into your wardrobe, these trends are sure to keep you at the forefront of fashion this year. So, stay ahead of the game and embrace the hottest streetwear trends of 2021.