Elevate Your Style Game with These Must-Have Accessories
Accessories have always been an integral part of fashion, allowing individuals to express their personal style and add a touch of flair to any outfit. From statement jewelry to stylish handbags, these must-have accessories can instantly elevate your style game and make you stand out from the crowd. Whether you're attending a formal event or simply going out for a casual day, these accessories are essential to complete your look.
1. Statement Jewelry: A great way to elevate your style is by incorporating statement jewelry into your outfit. Bold and eye-catching pieces like oversized earrings or statement necklaces can instantly transform a simple dress or basic top into a high-fashion ensemble. Look for unique designs and vibrant colors that complement your outfit. Don't be afraid to experiment with different metals and gemstones to add an extra touch of elegance.
2. Watches: Watches are not just functional devices; they are also a stylish accessory that can add sophistication to any outfit. Choose a watch that suits your taste and lifestyle, whether it be a classic timepiece or a trendy smartwatch. A watch can lend a touch of professionalism to your look and help you stay punctual while also making a fashion statement.
3. Handbags: A handbag is not only a practical necessity but also a fashion statement. Invest in a high-quality handbag that complements your style and adds a touch of luxury to your overall look. Opt for timeless designs like a classic leather tote or a structured satchel that can effortlessly transition from day to night. If you're feeling bold, experiment with trendy styles like mini backpacks or crossbody bags to add a youthful vibe to your outfit.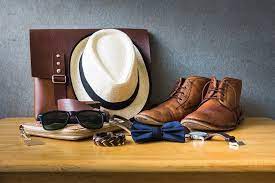 4. Sunglasses: No stylish look is complete without a pair of sunglasses. Besides protecting your eyes from harmful UV rays, sunglasses instantly make you look effortlessly cool and sophisticated. Choose a style that flatters your face shape and matches your personal style. Aviators, cat-eye, or oversized frames are perennial favorites that can instantly add a touch of glamour to any look.
5. Scarves: Scarves are versatile accessories that can be worn in multiple ways to instantly elevate your outfit. Tie a silk scarf around your neck, wear it as a headband, or tie it onto your handbag for a chic touch. Look for scarves with bold prints or vibrant colors to make a statement and add visual interest to your ensemble. Don't shy away from experimenting with different fabrics and textures to add dimension to your outfit.
6. Belts: A well-chosen belt can cinch your waist and add a polished touch to any ensemble. Whether you prefer a wide belt to accentuate your curves or a skinny one to add a subtle hint of elegance, belts can instantly transform a loose-fitting dress or oversized top into a tailored, fashion-forward outfit. Play with different colors and textures to add a pop of color or a touch of glamour to your look.
7. Hats: Hats have the power to completely transform your style and lend an air of sophistication to any outfit. From wide-brimmed hats for a glamorous summer look to beanie hats for a cozy winter ensemble, there's a hat for every season and occasion. Experiment with different styles and materials to find the one that best suits your face shape and personal style.
8. Shoes: The right pair of shoes can make or break your outfit. Invest in a few versatile pairs that can be worn with different outfits, such as classic pumps or ankle boots. However, don't be afraid to step out of your comfort zone and experiment with trendy styles like chunky sneakers or colorful heels. Shoes are a great way to add a pop of color or a bold statement to your look.
Discover the Secret Behind Okinawa Fat Belly Tonic – A Revolutionary Weight Loss Solution
In conclusion, accessories are the perfect way to elevate your style game and add a personal touch to any outfit. From statement jewelry to must-have handbags, incorporating these key accessories will instantly enhance your overall look and make you feel more confident and fashionable. Don't be afraid to experiment with different styles and trends; after all, fashion is about expressing yourself and having fun with your style. So go ahead, elevate your style game with these must-have accessories and let your personal style shine.