6 Must-Watch Makeup Tutorials for Beginners Makeup tutorials have become a popular medium for beginners to learn and enhance their skills. With so many tutorials available online, it can be overwhelming to choose the right one to start with. To make your journey easier, we have compiled a list of six must-watch makeup tutorials for beginners. These tutorials cover a wide range of topics and will provide you with a solid foundation to build upon.
1. "Beginner's Guide to Perfect Foundation" by Lisa Eldridge
When it comes to makeup, a flawless base is crucial. In this tutorial, renowned makeup artist Lisa Eldridge walks you through the entire process of achieving the perfect foundation. From selecting the right shade to applying it with different techniques, Lisa's detailed instructions will help you create a natural-looking base that enhances your features.
2. "Easy Everyday Makeup Routine" by Jaclyn Hill
For those who prefer a more natural and effortless look, Jaclyn Hill's tutorial is the perfect fit. She takes you through a step-by-step process, focusing on quick and easy techniques to create an everyday look. From minimal eye makeup to a subtle lip color, this tutorial is ideal for beginners who want to master a simple, yet put-together look.
3. "How to Achieve the Perfect Winged Eyeliner" by Wayne Goss
Winged eyeliner can often be a daunting task for beginners. Wayne Goss's tutorial breaks down the process, making it easy to understand and replicate. He provides valuable tips and tricks to achieve a precise and symmetrical wing that will instantly elevate any makeup look.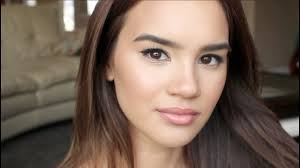 4. "Contouring and Highlighting for Beginners" by NikkieTutorials
Contouring and highlighting can seem intimidating at first, but NikkieTutorials' tutorial simplifies the process for beginners. She explains the basics of face mapping and demonstrates how to contour and highlight the different areas of the face. With her guidance, you will be able to enhance your features and create a sculpted look that suits your face shape.
5. "Natural Eyeshadow Tutorial" by Tati Westbrook
Eyeshadow can transform your look, but for beginners, it can be challenging to know where to start. Tati Westbrook's natural eyeshadow tutorial is perfect for beginners who want to learn the basics. She teaches you how to blend different shades seamlessly and create a soft, wearable eye look. Whether you prefer neutrals or pops of color, this tutorial will help you master the art of eyeshadow application.
6. "Perfectly Defined Brows" by Anastasia Beverly Hills
Well-defined eyebrows can frame the face and enhance your overall appearance. In this tutorial, Anastasia Beverly Hills, the queen of eyebrows, shares her expertise on achieving perfectly groomed brows. From shaping to filling them in, Anastasia demonstrates her signature techniques that will help you achieve stunning brows that complement your features.
Science Takes on Aging: Promising New Treatments Show Remarkable Results
By dedicating time to watch and practice these six must-watch makeup tutorials for beginners, you will acquire a strong foundation in makeup application. Remember, practice makes perfect, so don't be afraid to experiment and make the techniques your own. With time and patience, you will be able to create stunning makeup looks that reflect your individual style. So grab your brushes, follow these tutorials, and let your creativity shine.