From Dreamy Pastels to Bold Statements: Nursery Decor Ideas to Inspire When it comes to designing a nursery, there are endless possibilities to create a space that is both stylish and functional. From dreamy pastel hues to bold statements, nursery decor ideas can truly inspire and delight. Whether you're expecting a baby girl, boy, or prefer a gender-neutral space, the following design concepts will help you create a nursery that is sure to be the talk of the town.
Dreamy Pastels:
If you're looking to create a serene and calming atmosphere in your baby's nursery, then dreamy pastel shades are the way to go. Soft pinks, light blues, and muted yellows can set the tone for relaxation and tranquility. Consider painting the walls a soft shade of lavender and pairing it with baby blue accents such as a crib or a rocking chair. Add touches of whimsy by incorporating delicate floral prints or using pastel-colored wall decals. Finish the look with some plush rugs and curtains in coordinating pastel shades to create a dreamy oasis for your little one.
Gender-Neutral Elegance:
For those who want to keep the gender of their baby a surprise or just prefer a more neutral color palette, there are plenty of ways to create an elegant and sophisticated nursery. Opt for soft grays and whites as your base colors and accessorize with metallic accents such as gold or copper. A white crib with gray bedding and a metallic mobile can create a stunning focal point. Add depth to the room by incorporating different textures such as faux fur or knitted blankets. You can also introduce pops of color with artwork or throw pillows to create visual interest.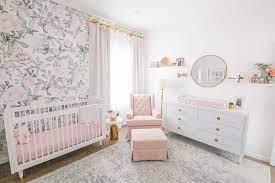 Bold Statements:
If you're not afraid to go big and bold with your nursery design, then this is the style for you. Add excitement to the room by incorporating vibrant colors such as deep blues, bold reds, or bright yellows. Consider using a statement wallpaper with a vibrant pattern or create an accent wall with a bold paint color. Opt for furniture in contrasting colors, such as a bright red chair paired with a turquoise crib. To balance out the strong colors, add neutral-colored curtains, rugs, and bedding to create a cohesive look. Finish the room with playful artwork and decor items to create a visually stimulating environment.
Nature-Inspired:
Bring the beauty of the outdoors inside with a nature-inspired nursery. Choose earthy tones such as greens, browns, and warm oranges to create a calming and grounded atmosphere. Create a focal point by adding a tree wall decal or wallpaper to one of the walls and coordinate it with wooden furniture and natural fabrics. Add pops of color with botanical artwork, plush animal toys, or a vibrant mobile. To complete the look, incorporate natural textures such as a grassy rug or a wicker basket for storage.
Eclectic Charm:
For a nursery that exudes personality and charm, eclectic decor is the way to go. Mix and match patterns, colors, and textures to create a space that is unique and whimsical. Choose a bold print as your starting point and build the color scheme around it. Mix in vintage furniture with modern accents, and incorporate quirky accessories such as globes, vintage toys, or a gallery wall of framed artwork. Don't be afraid to let your creativity shine in this design style and have fun with the process.
Top 10 Must-Have Baby Safety Products for Peace of Mind
In conclusion, nursery decor ideas can range from dreamy pastels to bold statements, offering endless possibilities for creating a stylish and functional space for your little one. Whether you prefer a serene and calming atmosphere or a room that exudes vibrancy and charm, these design concepts will inspire you to create a nursery that is truly one-of-a-kind. So get ready to embark on a magical journey of designing a nursery that will be both loved by your little one and admired by everyone who enters.