From Winter to Summer: The Must-Have Pieces in the Seasonal Clothing Collections As the seasons change and temperatures rise, it's essential to update our wardrobes to stay comfortable and stylish in the warmer months. From winter to summer, fashion designers release exciting new collections filled with must-have pieces for the season. Whether you're hitting the beach, exploring the city, or attending outdoor events, here are some key items you won't want to miss from the seasonal clothing collections.
1. Light and airy dresses: One of the first things that come to mind when thinking about summer fashion is a beautiful dress. The transition from winter to summer calls for a switch from heavy knitwear to breezy fabrics like cotton, linen, or chiffon. Look for playful designs with floral prints, vibrant colors, and flowy silhouettes. A maxi dress is a fantastic choice for a beach day or a romantic evening dinner, while a sundress is ideal for casual outings.
2. Lightweight tops: Swap out your winter sweaters and thick knit tops for lighter options. Opt for cotton or lightweight blend materials that allow your skin to breathe. Some trendy choices this season include cropped tops, off-shoulder blouses, and camisole tops. Pair them with shorts, skirts, or lightweight trousers for chic and effortless summer looks.
3. Shorts and skirts: Embrace the warmer weather by showing off your legs in a variety of shorts and skirts. Denim shorts are a timeless option that can be dressed up or down, while linen or cotton shorts are perfect for a more relaxed and comfortable style. For a more feminine touch, go for flowy skirts in various lengths and styles. Midi skirts are highly popular at the moment for their versatility and ability to be dressed up or down.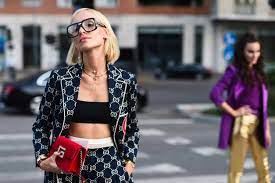 4. Swimwear: The arrival of summer means it's time to hit the beach or pool and enjoy some fun in the sun. When it comes to swimwear, the options are endless. From one-piece swimsuits with interesting cutouts to high-waisted bikinis and daring triangle tops, there's something for everyone. Choose styles that flatter your body shape and make you feel confident and comfortable.
5. Light outerwear: Although summer is all about warmth and sunshine, there may still be cool evenings or occasional rain showers. Be prepared with light outerwear such as a denim jacket, a lightweight cardigan, or a trench coat. These versatile pieces can be easily layered and thrown on when needed while still maintaining a stylish look.
6. Sandals and flat shoes: Ditch those heavy winter boots and invest in comfortable yet fashionable footwear for the summer. Sandals are a must-have in any summer wardrobe, and there are countless styles to choose from, including strappy gladiator sandals, trendy slides, and chunky platform sandals. If sandals aren't your style, opt for lightweight flat shoes like espadrilles or canvas sneakers. These shoes are perfect for long walks, city explorations, and casual outings.
7. Statement accessories: Enhance your summer outfits with eye-catching accessories. Think oversized straw hats for sun protection, stylish sunglasses to shield your eyes from the bright sun, and statement earrings to add a pop of color. Don't forget to incorporate colorful scarves, playful headbands, and dainty necklaces to elevate your overall look.
8. Breathable activewear: With the arrival of warmer temperatures, outdoor activities become even more appealing. Whether you're into running, yoga, or simply enjoying nature, having breathable activewear is essential. Look for moisture-wicking materials that allow your skin to breathe and keep you cool while you break a sweat. Opt for lightweight tops, shorts, and leggings that provide comfort and freedom of movement.
Fashion Hauls Unveiled: The Ultimate Guide to Stylish Shopping
In conclusion, transitioning from winter to summer means updating our wardrobes with seasonal clothing collections. From light and airy dresses to shorts and swimwear, these must-have pieces will keep you stylish and comfortable throughout the warmer months. Don't forget to accessorize with statement pieces and invest in breathable activewear to fully embrace the summer season. With these essentials, you'll be ready for any occasion and ready to make a fashionable statement all summer long.