Must-Have Baby Accessories for Busy Parents
When it comes to being a busy parent, having the right baby accessories can make a world of difference. From making life more convenient to ensuring the safety and well-being of your little one, these must-have accessories are essential for any busy parent.
1. Diaper Bag
A diaper bag is an absolute must-have for busy parents. This bag is designed specifically to carry all the essentials you need for your baby while on the go. Look for a bag with multiple compartments to keep diapers, wipes, bottles, and extra clothes organized and easily accessible. A diaper bag with insulated pockets for keeping bottles warm is also a great feature to look for.
2. Stroller
A reliable and easy-to-use stroller is a must-have for busy parents. Look for one that is lightweight, compact, and easy to maneuver. A stroller with a one-hand folding feature is perfect for busy parents, allowing you to easily open and close it with minimal effort. Additionally, look for a stroller that has storage compartments for holding your diaper bag or groceries, as well as a reclining seat for your baby's comfort.
3. Baby Carrier
A baby carrier is a lifesaver for busy parents who want to keep their little one close while still having their hands free. Whether you opt for a sling, wrap, or structured carrier, find one that is comfortable to wear and provides the necessary support for your baby's developing spine and neck. Look for adjustable straps and breathable fabric for added comfort.
4. Baby Monitor
A baby monitor is essential for busy parents who want to keep an eye and ear on their sleeping baby while tackling household chores or catching a few moments of relaxation. Look for a baby monitor with a clear audio and video feed, night vision, and a decent range. Some monitors even offer two-way communication, allowing you to soothe your baby from a different room.
5. Bottle Warmer
For busy parents who rely on bottle feeding, a bottle warmer is a must-have accessory. It saves you time and ensures that your baby's milk or formula is warmed to the perfect temperature. Look for a bottle warmer that is compact, easy to use, and has a quick heating feature.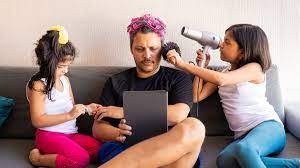 6. Highchair
A highchair is a necessary accessory once your baby is ready to start eating solid foods. Look for one that is easy to clean, has a sturdy design, and provides proper support for your baby. A highchair with adjustable height and reclining positions is also a great feature to have.
7. Baby Swing or Bouncer
A baby swing or bouncer is a great accessory for keeping your little one entertained and soothed while you tackle household tasks. Look for one that has multiple swing speeds, gentle vibrations, and different reclining positions. Some swings even come with built-in music and nature sounds to help calm your baby.
8. Portable Changing Pad
A portable changing pad is a must-have accessory for busy parents who are constantly on the move. It provides a clean and comfortable surface for changing diapers while you're out and about. Look for a changing pad that is compact, easy to clean, and has storage compartments for holding wipes and diapers.
9. Nursing Cover
For breastfeeding moms on the go, a nursing cover is essential for providing privacy and comfort while feeding your baby. Look for a nursing cover that is lightweight, breathable, and provides full coverage. Some nursing covers can also be used as a car seat cover or shopping cart cover, making them even more versatile.
10. Baby Backpack
A baby backpack is a must-have accessory for busy parents who want to be able to carry their baby comfortably while still having access to their essentials. Look for a backpack with adjustable straps, multiple compartments, and a padded back panel for added comfort. Some backpacks even have a built-in changing pad for added convenience.
From Spoon-feeding to Self-feeding: Innovative Feeding Solutions that Promote Independence
In conclusion, these must-have baby accessories for busy parents can greatly simplify your life and provide convenience and peace of mind. From a diaper bag that keeps all your baby essentials organized to a baby carrier that allows you to keep your little one close while having your hands free, these accessories are essential for any busy parent. Invest in these accessories to make your parenting journey a little easier and more enjoyable.