Stay Fashionable All Year Round: Introducing the New Seasonal Clothing Collections
Fashion is an ever-evolving industry, constantly bringing fresh and exciting trends to the forefront. With the change of seasons, new collections emerge, showcasing the latest styles and designs. These seasonal clothing collections offer fashion enthusiasts a chance to stay up to date with the latest fashion trends while also adapting to the changing weather conditions.
The concept of seasonal collections is not new to the fashion world. Designers have been creating collections specific to each season for decades, catering to the needs and preferences of consumers during different times of the year. From light and airy fabrics for the summer to warm and cozy textures for the winter, these collections are designed keeping both style and functionality in mind.
As we transition from one season to another, it's essential to stay fashionable while adapting to the changing weather conditions. These new seasonal collections provide a plethora of options to do just that. Spring and summer collections offer vibrant colors, playful patterns, and lightweight materials that are perfect for the warmer months. The focus is on light and airy fabrics like cotton, linen, and chiffon, allowing the skin to breathe and prevent discomfort in scorching hot temperatures.
The spring collection often introduces floral prints, pastel shades, and breezy silhouettes that are synonymous with the season. From flirty sundresses to chic jumpsuits, these collections encompass a wide range of styles suitable for various occasions. From casual backyard barbecues to elegant summer weddings, there is a perfect outfit for every event in these collections.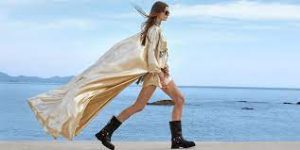 As autumn arrives, we transition into the fall and winter collections, which bring about a different range of styles and fabrics. These collections feature heavier fabrics like wool, cashmere, and suede, providing warmth and comfort during the colder months. Earthy tones, bold plaids, and rich textures dominate these collections, creating a cozy and fashionable aesthetic.
Fall collections often introduce layering options, as the weather becomes cooler. Sweaters, cardigans, and jackets combine with stylish accessories like scarves, hats, and gloves to combat the dropping temperatures while keeping the fashion quotient high. Whether it's a casual day out or a formal evening event, these collections offer something for everyone's needs and preferences.
Seasonal clothing collections not only keep us fashionable throughout the year but also allow us to experiment with different styles and trends. They provide an opportunity to revamp our wardrobes and explore new looks, reflecting our personalities and moods. The ever-changing fashion landscape ensures that there is always something exciting to look forward to when it comes to the new seasonal collections.
These collections are not limited to the runways and high-end fashion houses. Many affordable and accessible brands offer seasonal collections that make fashion accessible to everyone. Whether it's shopping at fast fashion retailers or exploring vintage stores, there are options available for all budgets and tastes.
Furthermore, the introduction of online shopping has made it even easier for fashion enthusiasts to keep up with seasonal collections from the comfort of their homes. With just a few clicks, one can browse through a wide range of options, compare prices, and make purchases conveniently. The availability of online platforms has expanded access to these collections, ensuring that fashion is now a global and inclusive phenomenon.
Metabo Flex: A Revolutionary Supplement for Enhanced Flexibility
In conclusion, staying fashionable all year round is made possible by the introduction of new seasonal clothing collections. From spring to winter, designers cater to the changing weather conditions and fashion preferences of consumers through these collections. By embracing the new styles and trends offered in these collections, we can effortlessly stay fashionable while adapting to the seasonal changes. So, whether it's the vivid colors of spring, the breezy silhouettes of summer, or the cozy textures of fall and winter, these seasonal collections have something to offer for everyone.