Stay Fresh and Glowing: Top Summer Makeup Looks to Beat the Heat
Summer is here and that means it's time to switch up our makeup routine. With the hot and humid weather, you want a look that is fresh, lightweight, but still ensures a glowing complexion that withstands the scorching sun. Whether you're heading to the beach, attending a summer wedding, or simply want to look your best during those sweltering days, we've got you covered with the top summer makeup looks to help you beat the heat!
1. Sun-Kissed Glow:
One of the most sought-after looks during summer is that natural, sun-kissed glow. Start by prepping your skin with a matte primer to minimize shine. Follow with a lightweight, tinted moisturizer or a BB cream to even out your complexion while still allowing your skin to breathe. To enhance the radiance, opt for a cream bronzer and apply it to the areas where the sun naturally hits your face such as the forehead, nose, and cheekbones. Complete the look with a touch of peachy blush on the apples of your cheeks and a dewy highlighter on the high points of your face for that ultimate summer glow.
2. Minimalistic Makeup:
For those scorching hot days when wearing a full face of makeup doesn't sound appealing, opt for a minimalistic approach. Start with a lightweight, oil-free, and long-wearing foundation or a tinted moisturizer. Conceal any imperfections you may have such as dark circles or blemishes with a creamy concealer. Set everything in place with a dusting of translucent powder. Enhance your eyes with a coat of waterproof mascara and define your brows with a tinted brow gel. Finish off the look with a tinted lip balm for a subtle touch of color while keeping your lips moisturized.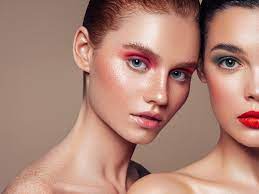 3. Vibrant Eyeliner:
Add a pop of color to your summer makeup looks by incorporating a bright and vibrant eyeliner. Choose shades like turquoise, emerald green, or electric blue for a fun and playful twist. Opt for a waterproof formula to ensure it stays put despite the heat and humidity. Keep the rest of your makeup minimal and let the eyeliner be the star of the show. Apply a light wash of a neutral eyeshadow, curl your lashes, and apply a coat of mascara. Complete the look by pairing it with a nude lip color to let the eyes take center stage.
4. Watercolor Eyes:
If you're feeling a bit more adventurous, experiment with watercolor-inspired eyeshadows. Pick a palette that offers a range of pastel shades such as lavender, baby pink, or sky blue. Blend two or three of these shades together on your eyelid for a fresh and dreamy look. Pair it with a nude lip color and a glossy finish for a light and ethereal summer vibe.
5. Bold Lips:
For those days when you want to make a statement, nothing beats a bold lip color. Opt for shades like coral, fuchsia, or even a bright orange for that perfect summery pout. Ensure your lips are well-prepped by exfoliating and moisturizing them beforehand. Apply the lipstick using a lip brush for precision and blot with a tissue for a longer-lasting finish. Keep the rest of your makeup simple with a light wash of eyeshadow, a subtle winged eyeliner, and lightly defined brows.
Unlocking the Magic of K-Beauty: The Hottest Trend in Skincare
Regardless of the summer makeup look you choose, make sure to prime your skin, use long-wearing formulas, and set everything in place with a setting spray to withstand the summer heat. Don't forget to keep a few blotting papers and a powder compact in your purse for touch-ups throughout the day. Now you're ready to stay fresh and glowing, no matter how high the temperature rises!