The Latest Trends in Baby Clothing: What to Dress Your Little One in This Season
As seasons change, so does the world of fashion, including the realm of baby clothing. Dressing our little ones is always a delightful experience, and keeping them stylish and comfortable at the same time is a priority for parents. This season brings a plethora of fashion-forward trends for baby clothing, so let's take a closer look at what to dress your little one in this season.
1. Sustainable and Organic Fabrics:
In recent years, there has been a growing awareness about sustainability and the harmful effects of synthetic fabrics on the environment. As a result, many parents are now opting for baby clothing made from sustainable and organic fabrics. Natural fibers like organic cotton, bamboo, and hemp are becoming increasingly popular choices. These fabrics are free from harmful chemicals, soft on the baby's delicate skin, and better for our planet.
2. Gender-Neutral Designs:
The traditional notion of pink for girls and blue for boys is being challenged as more parents opt for gender-neutral clothing for their little ones. This trend focuses on clothing designs and colors that can be worn by any baby, regardless of their gender. Pastel shades, earthy tones, and neutral color palettes are in vogue, making it easier to mix and match outfits for your little fashionista.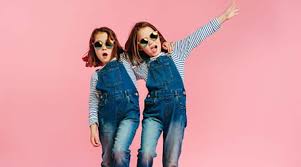 3. Cozy Knits and Sweaters:
As the weather turns cool, it is essential to keep our babies warm and snug. This season, cozy knits and sweaters are stealing the spotlight. Soft and comfortable sweaters in a variety of textures and patterns are perfect for layering and provide an extra level of warmth to protect your baby from the chilly weather. Chunky knits, cable patterns, and Scandinavian-inspired designs are all the rage.
4. Animal Prints and Patterns:
Animal prints are not just for adults anymore. Baby clothing featuring adorable animal prints and patterns are all over the racks this season. From tiny elephants, cute pandas, to fierce leopards, animal-themed outfits are a great way to add a playful touch to your baby's wardrobe. Whether it's a onesie, a little romper, or a pair of leggings, animal prints are a sure hit.
5. Vintage Styles:
It's a blast from the past! Vintage-inspired designs are making a comeback in the baby fashion world. Classic fabrics, nostalgic prints, and retro silhouettes are adding a touch of old-world charm to your baby's wardrobe. From Peter Pan collars and puffed sleeves to rompers with vintage-inspired patterns, your little one can channel their inner vintage fashionista.
6. Sustainable Footwear:
To complete your baby's stylish look, don't forget about their tiny feet. Sustainable footwear for babies is gaining popularity, with brands offering eco-friendly options made from recycled materials or ethically sourced leather. Soft-soled shoes made from natural materials allow your baby's feet to develop naturally while providing necessary protection. Plus, they are incredibly adorable and go well with any outfit.
7. Functional Fashion:
Baby clothing should not only be stylish but also practical and functional for parents. This season, you will find a range of baby outfits designed with features like easy-open snaps, magnetic closures, and adjustable waistbands, making diaper changes and dressing your little one a breeze. Functional fashion ensures that your baby stays comfortable while saving you time and effort.
AMICLEAR: Revolutionary Air Purification Technology Making Indoor Spaces Safer
In conclusion, this season's baby clothing trends are all about sustainability, comfort, and style. From sustainable and organic fabrics to gender-neutral designs, cozy knits, and animal prints, there are endless ways to dress your little one in the latest fashion. Vintage-inspired styles and sustainable footwear add a touch of uniqueness to your baby's wardrobe, while functional fashion makes dressing them a breeze. So go ahead, embrace these trends, and let your little fashionista shine this season!