The Must-Have Fashion Trends For Men/Women This Season
With the changing seasons, comes a fresh new wave of fashion trends. It's time to pack away those heavy winter coats and bring out the lighter fabrics and brighter colors. Whether you're a man or a woman, there are a few must-have fashion trends that you definitely need to add to your wardrobe this season. From bold patterns to classic staples, here are the top fashion trends for men and women this season.
For Men:
1. Pastel Colors: Pastel shades are no longer just for women. This season, men can embrace soft pinks, baby blues, and lavender tones. These colors can be incorporated into shirts, blazers, or even pants for a fresh and stylish look.
2. Wide-Leg Trousers: Say goodbye to skinny jeans. This season, the focus is on wide-leg trousers. This trend offers a more relaxed and comfortable fit while still looking polished. Pair them with a casual shirt or even a blazer for a sophisticated look.
3. Printed Shirts: Add some fun to your wardrobe with printed shirts. Whether it's floral designs, tropical prints, or abstract patterns, printed shirts are a great way to make a statement and show off your personal style.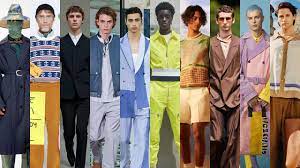 4. Layered Jewelry: Don't be afraid to accessorize this season. From stacked bracelets to layered necklaces, adding jewelry to your outfit can elevate your look and add a touch of personality.
5. Oversized Blazers: Oversized blazers are making a comeback this season. They can be dressed up or down, making them versatile for various occasions. Pair them with jeans or trousers for a stylish and effortlessly cool look.
For Women:
1. Puff Sleeves: Puff sleeves are all the rage this season. Whether it's on blouses, dresses, or even sweaters, this trend adds a feminine touch to any outfit. Opt for bold colors or patterns for an extra statement.
2. Midi Skirts: Midi skirts are a must-have for women this season. They are incredibly versatile and can be worn for both casual and formal occasions. Pair them with a cropped top or a sweater for a chic and fashionable look.
3. Monochrome Looks: Monochrome outfits are timeless and always in style. This season, go for head-to-toe monochrome looks in neutral tones like white, beige, or gray. It creates an effortlessly chic and sophisticated look.
4. Statement Belts: Make a statement with your accessories by adding a bold belt to your outfit. Whether it's a wide waist belt or a chain belt, this trend adds an extra touch of style and completes your look.
5. Chunky Sneakers: Chunky sneakers are still going strong this season. They offer both comfort and style, and can be paired with dresses, skirts, or even jeans for a casual and trendy look.
Unleashing the Power of PhytoCAT: How this Innovative Technology is Revolutionizing Agriculture
These are just some of the must-have fashion trends for men and women this season. By incorporating these trends into your wardrobe, you'll be sure to turn heads and stay up-to-date with the latest fashion. Remember, fashion is a form of self-expression, so don't be afraid to experiment with these trends and make them your own. Happy shopping!