The Ultimate Checklist: Newborn Essentials You Can't Live Without
Preparing for the arrival of a new baby is an exciting and exhilarating time. From choosing the perfect name to setting up the nursery, there is much to do before your little bundle of joy arrives. One task that many new parents find overwhelming is creating a checklist of newborn essentials. With so many products on the market, it can be challenging to determine what is necessary and what is just a luxury. To help you navigate this process, we have compiled the ultimate checklist of newborn essentials that you simply can't live without.
1. Diapers and wipes: A newborn baby can go through 10 to 12 diapers a day, making this item a top priority. Stock up on both disposable and cloth diapers, as well as fragrance-free wipes.
2. Clothing: Your newborn will need a variety of onesies, sleepers, and hats. Opt for soft, breathable fabrics that are easy to wash and care for.
3. Swaddling blankets: Swaddling can help soothe and comfort a newborn. Investing in a few quality blankets designed for swaddling is essential.
4. Nursing essentials: If you plan to breastfeed, invest in a comfortable nursing bra, nursing pads, and a quality breast pump. A nursing pillow can also provide much-needed support during feeding sessions.
5. Bottles and formula: Even if you plan to breastfeed exclusively, having a few bottles and formula on hand can be helpful in case of emergencies or if you need to supplement.
6. Pacifiers: Pacifiers can help calm and soothe a fussy baby. Choose ones that are BPA-free and easy to clean.
7. Infant car seat: A car seat is a legal requirement for bringing your baby home from the hospital. Ensure it is properly installed and meets all safety standards.
8. Stroller: A reliable stroller is a must-have for taking your little one on walks and errands.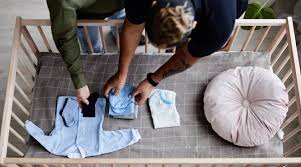 9. Bassinet or crib: Your newborn will need a safe place to sleep. Consider purchasing a bassinet for those early days and then transition to a crib when your baby is older.
10. Changing table and supplies: A changing table provides a dedicated space for diaper changes. Stock it with diaper rash cream, petroleum jelly, and soft washcloths.
11. Bath essentials: Invest in a baby bathtub or a tub insert for your regular bathtub. Include gentle baby soap, shampoo, a soft washcloth, and towels.
12. Baby monitor: A baby monitor allows you to keep an eye on your baby when you are in another room. Look for one with video and audio capabilities for added peace of mind.
13. Thermometer: A digital thermometer is essential for monitoring your baby's temperature.
14. Safety gates: As your baby grows and becomes more mobile, safety gates will help create a safe environment by restricting access to certain areas of your home.
15. Baby swing or bouncer: These entertaining devices can provide much-needed relief when you need a break or have tasks to complete.
16. Breastfeeding pillow: If you plan to breastfeed, a breastfeeding pillow can provide much-needed support and comfort for both you and the baby.
17. Burp cloths: Babies often spit up, so having a few burp cloths on hand will save you from constantly changing your clothes and your baby's.
18. Baby carrier: A baby carrier or sling is an excellent way to keep your baby close to you while leaving your hands free to tackle your daily tasks.
19. Baby books and toys: Stimulate your baby's developing senses with interactive toys and age-appropriate books.
20. Diaper bag: A spacious and well-organized diaper bag is essential for carrying all the essentials when you are on the go.
In-Depth Reviews: Finding the Best Baby Products for Your Little One
By following this ultimate checklist of newborn essentials, you can ensure that you are well-prepared for the arrival of your little one. Remember, every baby is different, and you may find that some items are more essential to you than others. Trust your instincts, seek advice from experienced parents, and enjoy this precious and exciting time in your life.