Top 10 Must-Have Baby Products for New Parents Becoming a new parent can be both exciting and overwhelming. There are so many things to consider and prepare for, especially when it comes to purchasing the necessary baby products. From cribs to diapers, there is a wide range of must-have items that every new parent needs to ensure their baby's safety and comfort. In this article, we will explore the top 10 must-have baby products for new parents.
1. Crib or Bassinet
One of the most important items on any new parent's shopping list is a safe and comfortable place for their baby to sleep. A crib or bassinet is essential for providing a secure sleeping environment. Look for one that meets the safety standards, with adjustable mattress heights and sturdy construction.
2. Diapers and Wipes
Newborns go through a lot of diapers and wipes, so it's important to stock up on these essentials. Whether you choose disposables or cloth diapers, having an ample supply will save you from having to run out to the store constantly. Look for wipes that are gentle on your baby's skin and diapers with absorbent cores to keep your little one dry and comfortable.
3. Car Seat
A car seat is a non-negotiable item for new parents. It's not only essential for bringing your baby home from the hospital but also for every car ride afterward. Make sure to choose a car seat that is appropriate for your child's age and weight, and install it properly according to the manufacturer's instructions.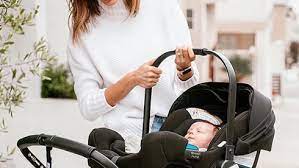 4. Stroller
A reliable and easy-to-use stroller is another must-have for new parents. Look for a stroller that meets your needs and lifestyle, whether it's a lightweight umbrella stroller for quick errands or a sturdy jogging stroller for active parents. Safety features like harnesses and brakes are equally important.
5. Baby Carrier or Wrap
A baby carrier or wrap allows parents to keep their hands free while keeping their baby close. These can be a lifesaver for busy parents who need to go about their daily tasks while still keeping their baby content. Look for one that provides proper support and doesn't put strain on your back or shoulders.
6. Bottles and Formula
Even if you plan on breastfeeding, having a few baby bottles and some formula on hand is always a good idea. Whether it's for supplementing breast milk or for those times when you need someone else to feed your baby, having the right bottles and formula can be a real lifesaver.
7. Diaper Bag
A well-stocked diaper bag is essential for parents on the go. Look for a bag that has plenty of compartments to keep everything organized and easily accessible. It should also have insulated pockets for bottles and space for essentials like extra diapers, wipes, and a change of clothes.
8. Breast Pump
For breastfeeding moms, a breast pump can be a game-changer. It allows you to express and store breast milk for those times when you need to be away from your baby or if you want to build up a supply. Look for a pump that is comfortable to use and easy to clean.
9. Baby Monitor
A baby monitor gives parents peace of mind by allowing them to monitor their baby even when they are in another room. Look for one that offers a clear and secure connection, with features like two-way audio and video capabilities.
10. High Chair
As your baby grows, a high chair becomes an essential piece of furniture. Look for one that is easy to clean, with safety features like a secure harness and adjustable heights. Some high chairs even convert into toddler chairs, making them a long-term investment.
Ignite Your Workout: Introducing Burn Boost, the Ultimate Fitness Supplement
In conclusion, these top 10 must-have baby products for new parents cover everything from sleep and feeding to transport and safety. While every family's needs may vary, these essentials will help new moms and dads navigate the exciting yet challenging journey of parenthood. With these items on hand, parents can feel more confident in providing a safe and comfortable environment for their little ones.