Unlock Your Style: Key Fashion Tips for Men/Women
Fashion is not just about following trends; it's about expressing your personality and feeling confident in your own skin. Whether you're a man or a woman, unlocking your style can be an empowering journey. Here are some key fashion tips that can help enhance your wardrobe and boost your confidence.
For Men:
1. Know your body type: Understanding your body shape is crucial when it comes to dressing well. Whether you're tall and athletic or shorter and stockier, choose clothes that flatter your physique.
2. Invest in quality basics: Building a solid foundation of timeless, versatile pieces is a great starting point. Essential items such as well-fitted jeans, tailored shirts, and a quality blazer can be mixed and matched to create countless stylish outfits.
3. Don't shy away from color: Men tend to gravitate towards neutrals, but adding color can bring life to your wardrobe. Experiment with vibrant hues in your accessories like ties, pocket squares, or even a pair of colorful sneakers.
4. Pay attention to fit: Ill-fitting clothes can make even the most stylish outfit look sloppy. Make sure your clothes fit properly, with the right length and proportions, and consider getting them tailored if needed.
5. Accessorize subtly: Small details can make a big difference. Simple accessories like a classic watch, a stylish belt, or a statement pair of sunglasses can elevate your look without overpowering it.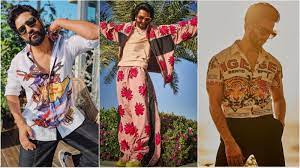 6. Experiment with patterns: Don't be afraid to incorporate patterns into your outfits. From classic stripes to bold prints, patterns can add visual interest and show off your personality.
7. Dress for the occasion: Be mindful of the dress code for different events or occasions. It's always better to be slightly overdressed than underdressed, as it shows respect and attention to detail.
For Women:
1. Embrace your body shape: Every woman is unique, so embrace your body shape and choose clothes that enhance your best features. Whether you're curvy, petite, or have an athletic build, there is a wide range of styles that can flatter your figure.
2. Invest in quality basics: Like men, women need a foundation of quality basics as the building blocks of their wardrobe. A well-fitting pair of jeans, a little black dress, and a tailored blazer are timeless essentials.
3. Mix and match: Get creative with your outfits by mixing different textures, colors, and patterns. Don't be afraid to experiment with different combinations to create unique and stylish looks.
4. Accessorize with confidence: Accessories can transform any outfit. Be it statement jewelry, a stylish bag, or a stylish pair of shoes, choose pieces that reflect your personal style and add that extra flair to your look.
5. Play with silhouettes: Experimenting with different silhouettes can be fun and flattering. Try balancing a loose-fitting top with a pair of fitted bottoms or vice versa to create interesting proportions.
6. Layering: Layering adds depth and interest to your outfit, especially during chilly months. Play around with different lengths and textures to create stylish and cozy looks.
7. Dress for yourself: At the end of the day, fashion is a form of self-expression. Dress in a way that makes you feel confident and comfortable, regardless of current trends or societal expectations.
From the Streets to the Runway: How Streetwear Took Over Fashion
Unlocking your style is about expressing who you are through your clothing choices. It's about feeling comfortable and confident in your own skin. With these key fashion tips for both men and women, you can take your style to the next level and truly unlock your fashion potential.